ORGANICALLY-INFUSED & SERIOUSLY-EFFECTIVE PRODUCTS
Informed people everywhere are migrating towards a more natural approach to their health, their bodies and their way of life. Somehow we got sidetracked over the years to accept the status quo. Rule of thumb: If the ingredients in your food and your personal care products weren't around 2000 years ago...stay clear of them. MAKES SENSE.
YOU'VE NEVER BEEN NUMBED LIKE THIS BEFORE.

13 OF THE MOST POWERFUL PAIN RELIEVERS infused in one bottle. Comfortably Numb® has only the purest and most potent extracts which may stop pain and reduce painful inflammation in muscles, joint & tissues within minutes.  
Organic oils infused with all the heavy-hitters:  Arnica, Calendula, Cayenne, Comfrey Root, Menthol, Wintergreen, Ginger, and Turmeric - then combined with the delivery system of DMSO to bring the therapeutic and anti-inflammatory benefits deep into your cells, tissues, ligaments, muscles and joints.

⭐️⭐️⭐️⭐️⭐️"I have used countless muscle rubs in my life, but I keep coming back to Comfortably Numb®. There is nothing that can take away the pain of my knees and lower back better than this oil." - D. Thorson
SEE WHAT PEOPLE ARE SAYING
⭐️⭐️⭐️⭐️⭐️"When I applied COMFORTABLY NUMB® for the first time, I didn't think it would work so well. I jumped off the couch for the first time in months."  -J Murphy
⭐️⭐️⭐️⭐️⭐️ "I do not give reviews, but after using Moko's PIT-TOX Underarm Detox Paste, I have to say IT WORKS! I have had issues with excessive sweating my whole life, and after seven days of using PIT-TOX, the sweat under my arms literally stopped. I am going to apply to my feet next. This is an amazing product which really works!" - Anita R
⭐️⭐️⭐️⭐️⭐️"I sprained my ankle at the Ninja Gym, and I was on crutches the first day, and feeling great by Day Two."  - T Hawke
⭐️⭐️⭐️⭐️⭐️"The Big C literally made a pre-cancerous lesion disappear in three days. Amazing." - D. Cochran
⭐️⭐️⭐️⭐️⭐️"Using Moko's DIVINE Plant Stem Cell Serum has made my skin tone more even, and any dark marks I had, faded a lot. I definitely don't feel the need to wear makeup to cover anything anymore." - KTJ Vetter
⭐️⭐️⭐️⭐️⭐️"My mom uses the ATOMIC DUO for her hammertoe, and it literally straightens it out after using."  - J. Larson

We Are Pretty Proud of This.
Comfortably Numb® is a registered trademark of Moko Organics, LLC for topical analgesics and is registered with the U.S. Patent and Trademark Office.
YOU'VE GOT ISSUES...
Don't we all?
These amazingly-effective therapeutic balms are formulated to provide relief for your most annoying predicaments.
These large 2 oz tins hold A LOT of magic in each can. Carefully created to soothe and relieve concerns from belly aches to cold fingers - without toxic chemicals. The unique & aromatic scents are blends of some of the most healing & soothing therapeutic-grade essential oils out there.

⭐️⭐️⭐️⭐️⭐️"I bought the neuro balm the other day and smells just like the Asian balm my mama has. I have to say it has really helped relieved the tension on my body with the help of a massage. Also took away a lot of buildup to help with blood flow! And the amazing thing is I can even feel the circulation!
- S. Vue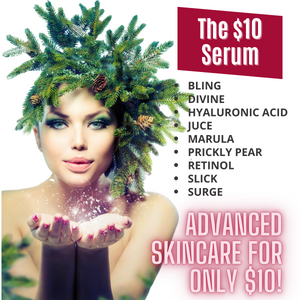 BRING ON YOUR HOLIDAY GLOW FOR JUST $10.
There is no guessing on the price of our skincare. THE $10 SERUM is everything it says. High-end serums, oils, masks & cleansers for just $10/ea.
THE $10 SERUM Skincare Line is jammed-packed with active botanicals and skin-transforming ingredients such as Vitamin C, Retinol, Co-Q10, Peptides, Niacinamide, & Plant Stem Cells. Right on.

⭐️⭐️⭐️⭐️⭐️"Using Moko's DIVINE Plant Stem Cell Serum has made my skin tone more even, and any dark marks I had, faded a lot. I definitely don't feel the need to wear makeup to cover anything anymore." - KTJ Vetter